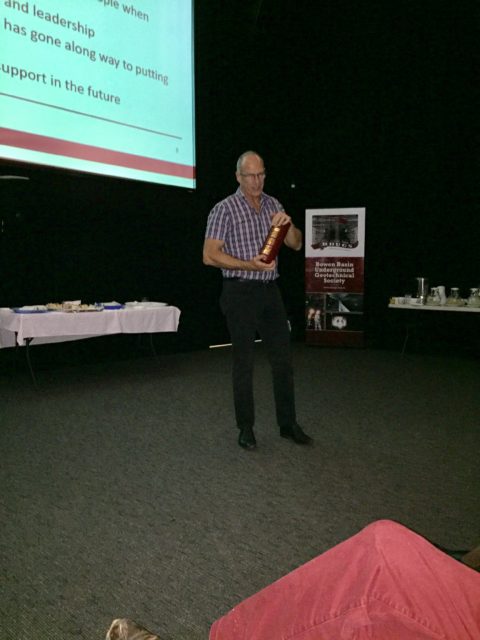 Fellow BBUGS Members,
A fantastic meeting was held at the Blackwater International Coal Centre yesterday, March 9th, thanks to all who turned up for the mine tour to Ensham Mine (thanks Ensham & Nick Gordon!) and to the 33 members who attended the technical session. The mine tour provided some interesting insight and was thoroughly enjoyed by all.
The technical session started off with an introduction from BBUGS Chairman, Richard Campbell, who graciously thanked BBUGS founding member, Dan Payne, for his enormous contribution to the success of BBUGS over the years (2009 – 2016). For those who don't know, Dan has stepped down from the BBUGS committee this year to concentrate on his burgeoning part-time university career. There is no doubt that the influence and drive that Dan brings to BBUGS will be missed, however he has promised to keep in touch and do the odd presentation now and then. Dan was presented with an engraved miners lamp from all past and present members of BBUGS. Salute Dan, BBUGS wishes you all the very best!
Dr Ross Seedsman kindly presented his thoughts and theories in a presentation titled, 'Incorporating Mine Seismicity and Coal Burst considerations into a strata failure management plan for Coal Mine Roadways'. This was a hefty piece of work and a rest break was required half way through. Thanks Ross, we all appreciated your time and efforts!
Next up our 2016 BBUGS Scholarship winner, Johan Van der Schyff, presented his research in a presentation titled, 'Quantifying creep behaviour in polyester resin and grout underground'. This provided some much needed insight into resins and grout, providing for some interesting questions at the end. It's class research like this that prompts BBUGS to sponsor student research by our universities every year! Well done Johan!
Finally everyone's favourite Geotech, Nick Gordon, presented his case study titled, 'Ensham Mine Site'. This provided a fascinating insight into the Ensham Mine philosophy and mining practises, a real compliment to the mine tour held in the morning. Thanks Nick!
We look forward to the next meeting (TBA), presenters get drafting!
Special thanks to DSI for generously buying drinks at the end of the day.
Kind regards
2017 BBUGS Committee